Day one at R+T … its a wrap!
Published: 21 Aug 2014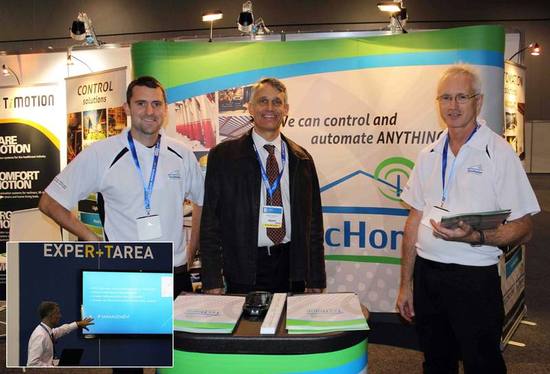 WHAT a great start to the long awaited R+T Expo. Being the first of its kind in Australia, the TecHome team were really happy with the result on the first day of the show. A substantial turn out, which will no doubt increase in numbers tomorrow.
Customers from all over Victoria (and Australia) visited our stand, showing a great deal of interest in our range of linear actuators and control products. Peter and Jeremy had a great day chatting to new customers and showcasing TecHome's products and services, also getting some great feedback from along the way.
TecHome's very own Managing Director, Mark Steiner, gained quite a bit of interest during his speaking session in the ExpeR+T area of the expo, discussing the pros and cons of purchasing and manufacturing offshore.
The TecHome team are looking forward to another busy day at the expo tomorrow, there'll be plenty to see and do, so why not come down and say hi to the guys at stand #E33, right next to the café.
Don't forget the expo is also open Saturday, so if you're working tomorrow, come and see us on the weekend!
Opening hours are:
Thursday 21 August 10am – 6pm
Friday 22 August 10am – 6pm
Saturday 23 August 10am – 4pm
See you there!
Pictured above: The TecHome Team – Jeremy Unwin, Managing Director Mark Steiner and Peter Bye. Inset: Mark Steiner during his speaking session.
Go to TecHome's Facebook page for more updates and photos from R+T