R+T Expo, day two round-up
Published: 22 Aug 2014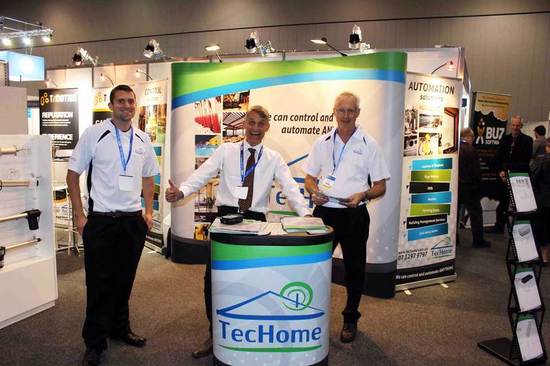 DAY two of the R+T Expo is coming to a close at the Melbourne Convention and Exhibition Centre. The TecHome team are in high spirits after another successful day meeting new customers and getting the word out about TecHome's products and services.
We've had some great feedback from customers saying that we're giving them the information they need in a language they can understand. This has always been our aim at TecHome, to keep things simple, making the lives of our customers as easy as possible!
We understand that every customer's specifications are different. We pride ourselves on customising control and solutions to meet each customer's requirements.
With expo doors closing at 6pm today, there's only a short time left to get down to the show. Can't make it today? Don't worry, the show runs tomorrow (Saturday, August 23) from 10am till 4pm.
If you're in the roller shutter, door, gate, window, sun protection system, related motors or electronics market, you can't afford to miss this pioneering event.
So come down and say hi to Peter and Jeremy at the TecHome stand (#E33) located right next to the café!
Pictured above: The TecHome Team having some fun. Jeremy Unwin, Managing Director Mark Steiner and Peter Bye. 
Go to TecHome's Facebook page for more R+T updates and photos