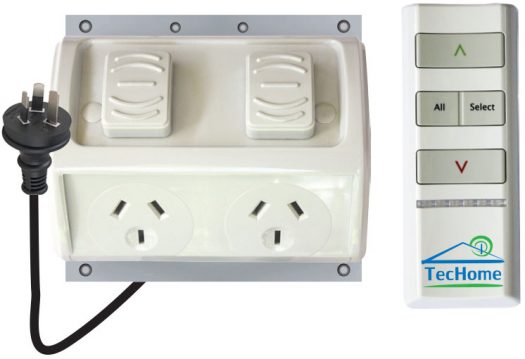 Bluetooth Remote control Powerpoint – TH892-BT
The latest generation BlueTooth enabled remote controlled outdoor power point, equipped with the latest features and allows you to control your outdoor device via a free smart phone automation app.
Control your outdoor electrical products with the push of one button. Say goodbye to ordinary power outlets and embrace the easy life.
Features:           
Bluetooth Control Via TecHome's "TheHub"
Individual Control
Group Control Function via one remote
Manual Control Function
No interference
Loss of power reset
No line of sight operation
Easy to install and operateEnergy Consumption <2.5W
Benefits:
Operate two outlets independently
Up to three devices can be controlled from one remote
Can be operated manually if remote is unavailable
Each remote is programmed with a unique code to eliminate interference with other devices
In the case of power loss, device will automatically turn to off position
Device does not have to be in direct line of sight to operate, can be controlled from within 30m.
Energy efficient
General Features
TH892-BT Power Point
| | |
| --- | --- |
| Maximum load | 10A 2400W Resistive |
| Maximum load | 8A @ 0.8Pf Inductive |
| Working Voltage…. | 240VA/C 50Hz |
| Weatherproof | IP53 |
TH379-18 -6 Channel Remote Control
| | |
| --- | --- |
| Dimensions | 124mm x 48 mm |
| Channel Number…. | 1 |
| Battery | 12V |
| Protection Class | IP51 Rating |
| Tick Approval | UL/FCC/CE/C |
Kit Contains: Dual outlet, 6 channel remote control and instruction manual.
Need help? Call the TecHome team on 1800 773 139
CONTACT US FOR MORE INFORMATION
TH892 Power Point Setup and Operation
Using TecHome TheHub with TH892 Power Points