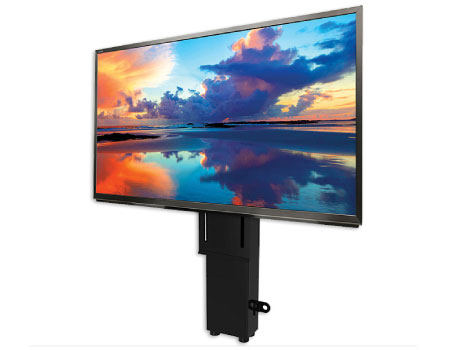 *In Stock Now* TVL3 Large TV Lift Kit – 914mm
TecHome TV Lift Kits take TV viewing to the next level. Our kits are designed to quietly lift and lower a television out of a cabinet or wall unit with a one touch remote control.
With a maximum 60kg load, the largest TecHome lift mechanism is suitable for TVs up to 60inches. Available in three sizes- small, medium and large, there is a TV Lift Kit to suit any application and allocation.
Which TV Lift Kit is right for me?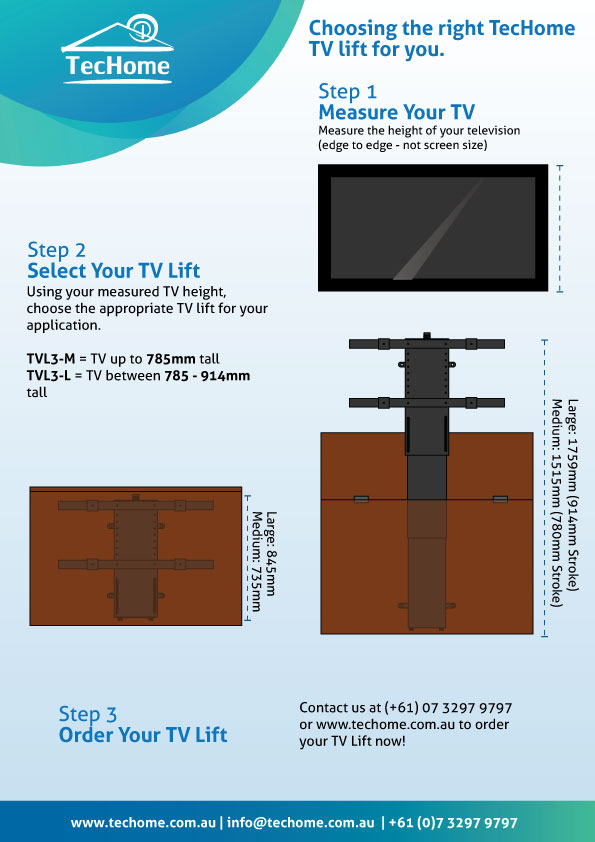 Step 1: Measure the height of your screen (with no stand as this will not be needed)
Step 2: Using your measured screen height, choose a maximum stroke size larger than your screen height
Features :          
Compact & solid lifting column
Maximum 60kg capacity
Maximum 35mm/sec lifting speed
Quiet operation
End limit switches
Easy operate, 3 buttons IR remote control, with UP/DOWN and MEMORY
Benefits:
Easy to install and operate
Memo mechanism allows the user to permanently set the ideal height for viewing.
Conserve space in small areas
Conceals TVs, DVDs and other technical equipment.
General Features
Specifications
Large
Type
TVL3 Series
Max Load (N)
600
Max Speed (mm/sec)
22
Standard Installation Dimension (mm)

___

795
Standard Stroke Lenght (mm)
914
Mounting Dimension (L)
650
Dimensions (mm)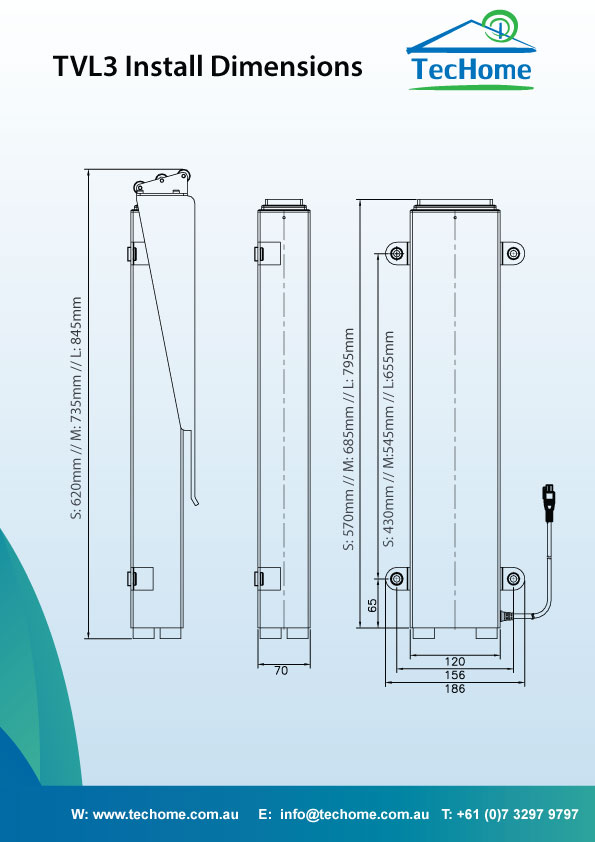 CONTACT US FOR MORE INFORMATION
How to set-up the TecHome TV lift