T-Smart Intelligent Electric Actuators
Published: 15 Aug 2023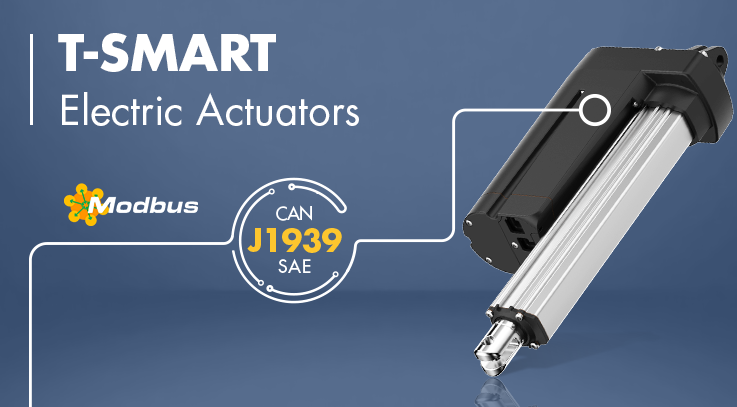 An actuator featuring the innovative "T-Smart" functionality comes equipped with an integrated driver board, revolutionising its internal capabilities and eliminating the necessity for an external control box. This streamlines the system's assembly process and overall performance.
The ingenious "T-Smart" feature in two distinctive variations:
T-Smart Advanced:
This version of T-Smart facilitates the seamless synchronisation of up to 8 actuators through an integrated controller. The result is efficient movement coordination, making it an optimal choice for applications like robotics and industrial machinery.
Attributes of the T-Smart Advanced:
Precise Synchronisation
Virtual Stroke Limits
Gentle Start and Stop Mechanism
T-Smart Bus Communication:
The T-Smart Bus Communication enables effortless integration with industrial interfaces, utilising various communication protocols. It supports SAE J1939 and Modbus protocols while maintaining the flexibility to tailor to other communication protocols as needed.
At Techome, we stand out by offering unparalleled customisation options tailored to the specific demands of each application. Being a vertically integrated enterprise, we possess the capability to fully adapt our actuators' stroke, speed, load capacity, programming, protective features, attachments, and cable length according to the user's precise specifications.
Electric Linear Actuators with "T-Smart" Functionality

Max. load: 8,000N(push); 4,000N(pull)
Max. speed: 52.5mm/s
IP69K

Max. load: 2,000N (push/pull)
Max. speed: 43mm/s
IP69K

Max. load: 3,500N (push/pull)
Max. speed: 10.4mm/s
IP66